Ever wanted to talk dirty to your lover, but tend to end up tongue-tied or freaking out? Read this guide to pick up the ultimate tips and tricks for dirty texts, dirty dares and dirty chat that are sure to get them hot under the collar…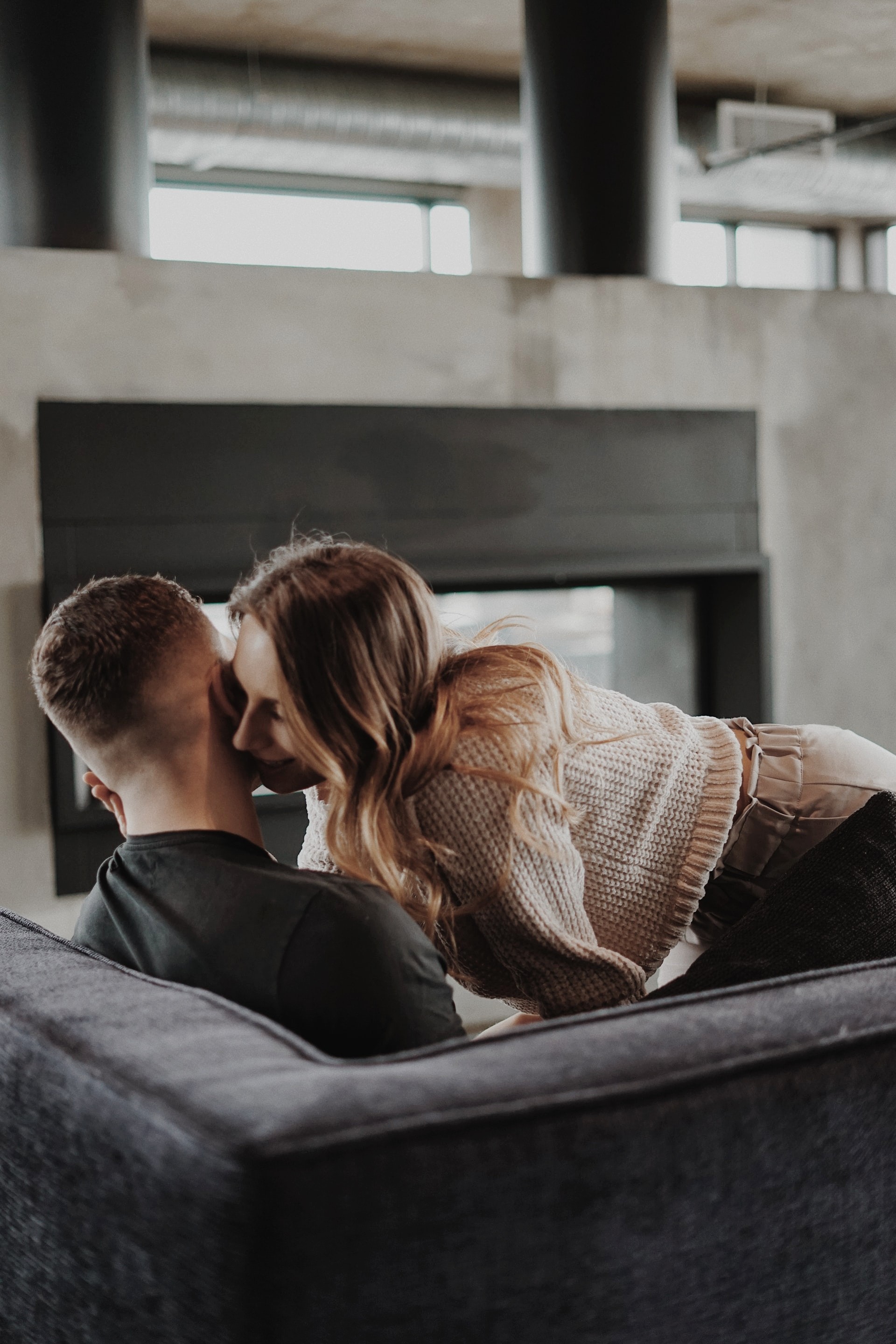 Although dirty chat tends to have a bit of a bad rep, it's actually a great way to spice up your relationship AND tell your partner exactly what it is you like... So, if you're keen to dial things up with a spot of dirty talk or are after some dirty things to say between the sheets, you've come to the right place.
Initially, it can be daunting, but once you get into the swing of things, you'll soon be talking dirty ideas and sending freaky texts while your other half's in the office. Meow.
Why try dirty chat?
There are loads of reasons to give dirty chat a go - both inside, and outside the bedroom.
First and foremost, it can help heighten sexual tension and get you in the mood, as well as helping to relax you. If you're trying it in bed with your partner, talking dirty ideas out loud can naturally lead to foreplay, touching and teasing. It can even make sex more passionate and exciting. What's not to love?!
Meanwhile, if you're doing the whole long-distance thing or living away from your partner and want to try sending some dirty text messages, it can really help to keep the spark alive. It'll drive them crazy!
You could also try Facetiming your partner or giving them a naughty phone call. Just grab some toys, dim the lights and lube up. Leave your inhibitions at the door and get ready to get stuck into some dirty dares like removing an item of clothing or doing whatever your partner tells you to do.
How to talk dirty: dos and don'ts
Dirty talk can be a lot of fun, but before you start, it's important to introduce some ground rules and discuss expectations.
First things first, discuss it with your partner and check that it's something they're open to trying too. You never know, they might be keen, but nervous to broach the subject, or they might hate the idea - it's always a good thing to check beforehand.
Once you're ready to give it a go, check out these tips and tricks for doing the dirty (in a good way!)
1. Do: Agree on some ground rules
Before experimenting with talking dirty or dirty texts, it's important to discuss with your partner any limits they might have or topics they'd rather avoid. That way, you can both go into it feeling as comfortable as possible.
Equally, if either of you find it too much at any point, it's fine to dial it back a bit and take a break. It's not for everyone, and once you get started you may find it's not for you.
2. Do: Discover what they like
Part of the fun of dirty chat is getting your honey all worked up, and that means finding out what they like, and what turns them on.
Whether it's a secret threesome fantasy that'll drive them wild or telling them how to use a new sex toy on you, play on it, and expect things to heat up very quickly!
3. Do: Tell them how turned on you are
If you're enjoying it, let your partner know!
After all, there's nothing hotter than knowing your other half is aroused by the things you're saying and doing...
4. Do: Tell them what you want to do to them (and vice versa!)
If you're struggling to think of dirty things to say, it can be mutually exciting to tell your partner exactly what you want them to do to you.
Start off slow with things like kisses, strokes and touches, before getting into the truly naughty details…
As long as your lover's comfortable, open-minded and keen to hear your desires, you can take your dirty chat anywhere you want it to go.
5. Do: Try some dirty dares
If you're planning a date night at home, or over the phone, why not try out some dirty dares?
Agree on some naughty forfeits beforehand (like taking off an item of clothing) or involve toys like blindfolds and handcuffs to really heat it up.
If you're all out of ideas for dares, try our truth or dare card game, or have some fun with these naughty dice.
6. Do: Relax and have fun with it!
Try not to overthink it. Talking dirty should be a fun experience for both of you. There's no need to pre-plan it too much either. Just go with the flow.
7. Don't: judge them
If you've decided to explore dirty chat with your partner, it's important to stay open-minded. If they end up saying something you weren't expecting, don't laugh at them and try not to judge them.
Being open and honest with your partner and willing to listen to their desires will only make your bond as a couple stronger.
8. Don't: Get pushy
Equally, don't be pushy with your partner. If the chat is heating up and getting kinky, but they're looking put off or freaked out, it's a good idea to tone it down a little or focus on something else.
The last thing you want is to make them feel uncomfortable.
9. Don't: Comment negatively on specifics
Avoid commenting on things like your partner's shape or size. Your lover may have insecurities you aren't even aware of, so it's generally best to stick to positive comments and compliments.
10. Don't: Feel pressured
Try not to put pressure on yourselves. Remember, it should be fun! If it leads to foreplay and sex, great, if not, don't stress.
The more you do it, the more naturally talking dirty will come. You'll be an expert in dirty chat before you know it!
Our favorite
dirty talk examples
Looking for ideas of sexy texts to send to your lover, or want to know what to say during sex? Turn to our list and get stuck in!
"How do you want me to touch you?"
"How do you want me to kiss you?"
"I love that look you give me when you're thinking something naughty?"
"Undress me slowly."
"I want to tell you a fantasy of mine…"
"Let's make love slowly."
"I want to taste you."
"You have such a perfect… ."
"I want you to play with yourself while I watch."
"How many times do you think I can make you come?"
"Lick me. Taste me. Fuck me."
"Get on your hands and knees and wait."
"I want to hear you beg."
"I want you to come all over my… ."
"What do you enjoy most about us having sex?"
"Fuck me however you want to."
"Let me look at you."
"I want you to feel how wet/hard you make me."
"I love how you sound when you come. Can you come for me?"
"I want to feel you inside me." or "I want to be inside you."
Looking for more dirty chat inspo?
Have a look at team Lovehoney challenging themselves to talk dirty in silly accents without laughing…